RE: Could I compile a python GTK appeared for Ubuntu touch?
Packaging a GTK app as an click package is possible and here is an example that worked on my Nexus 4 with Mir as the display manager and will maybe also work on other devices:
Video of working app (a simple image editor):
https://libre.video/videos/watch/2f2c5304-d278-4b43-84e0-3c463d3a6432
Source Code:
https://gitlab.com/AdamSchrey/image_and_buttons
Some of the things done here will most likely not be necessary on devices that run Wayland.
I had to add this lines to the .desktop file:
X-Ubuntu-Touch=true
X-Ubuntu-XMir-Enable=true
I had to add this line to the .apparmor file:
"template": "unconfined",
Otherwise I would get this error:
** (process:26446): WARNING **: Unable to exec '/usr/lib/arm-linux-gnueabihf/ubuntu-app-launch/xmir-helper image-and-buttons_0.9.0 ut_session.sh' in '/opt/click.ubuntu.com/.click/users/phablet/image-and-buttons': Permission denied
I had to export this variable to get bigger buttons/text/entries...:
export GDK_SCALE=2
To get an on screen keyboard I installed this packages on my device:
maliit-inputcontext-gtk3 maliit-inputcontext-gtk2
...and exported this variable:
export GTK_IM_MODULE=maliitphablet
I reply to this old post, because when I searched for a solution, this was one of the first things that came up and I could not find any working examples my self.
Maybe someone will find this helpful or will tell me if my app and my solution also work on other devices.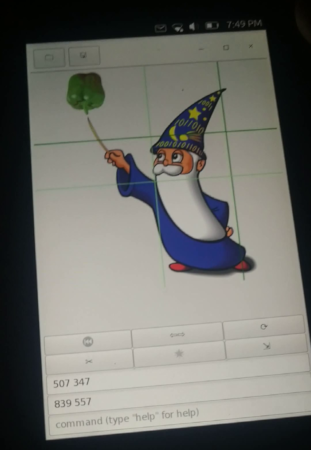 Some of the things I did, were taken from this website
http://kriscode.blogspot.com/2016/09/x-applications-on-ubuntu-phone.html
posted in App Development